How it works
GPS safety tracking scheme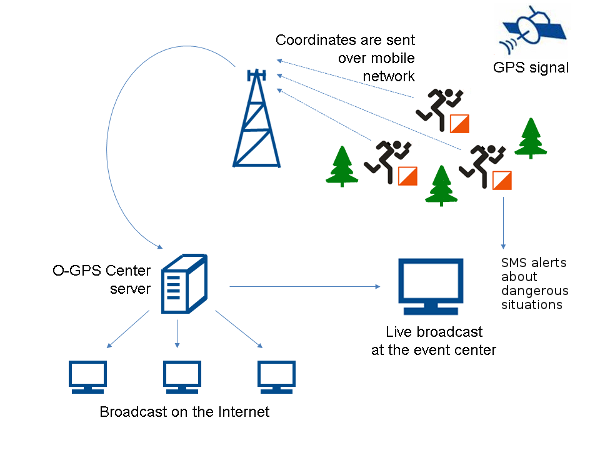 We use SMS messages as a main safety alerts channel because of possible lack of mobile internet coverage. But if mobile internet present you can get realtime positions of competitors. The main O-GPS Center distinction is using smartphones as tracking devices. Specialized trackers cost about $300, whereas simple smartphone with GPS receiver built-in about $100. Thus, the approach reduces the GPS-tracking equipment cost and so makes it more feasible to use by event organizers. As a tradeoff, the tracking accuracy is slightly reduced.
Smartphone requirements
Built-in GPS
OS Android 4.1 or higher
How much it cost?
It depends on your mobile internet plan and on the event duration. For example, in Russia if you pay 1rub per Mb then 2 hour event would cost about 6rub.
Where to get more help?
You can find phone app installation, map preparation and how to run events instructions on the following page https://ogps.myjetbrains.com/youtrack/articles/ At the moment all documentation are in Russian and English only. We are working on its translation to other languages.